"ACCOUTREMENTS"
A weekly multi-media page of my archives, my creative process and my inspiration in art, film, music...& way cooler then stalking me on Facebook.
Film Noir... "Vol De Bijoux"
One of my favorite genres of film is Film Noir. Classics such as Great Expectations, Maltese Falcon, Gloria Swanson in Sunset Boulevard, and Marlene Dietrich in Shanghai Express were a few of the many sources of inspiration for this beauty shoot!
A few years back, I spent a summer studying these films in order to learn the lighting, the hair & make-up, and the storylines. My challenge was finding a way to create a conceptual visual narrative based on beauty and cosmetics and translate it into still imagery that reflected Film Noir.
I collaborated with an art historian & prop stylist as well as a great team including model, hair, and make up, and this was our result. We called it Vol De Bijoux which translates to Jewelry Heist...Because who doesn't love a good heist!?!
Recently I presented this narrative as a 5 piece leave behind print promotional, and I presented the story in French. I thought it to be a bit more creative then basic cupcakes and coffee especially while presenting to a Creative Director from Paris. ;)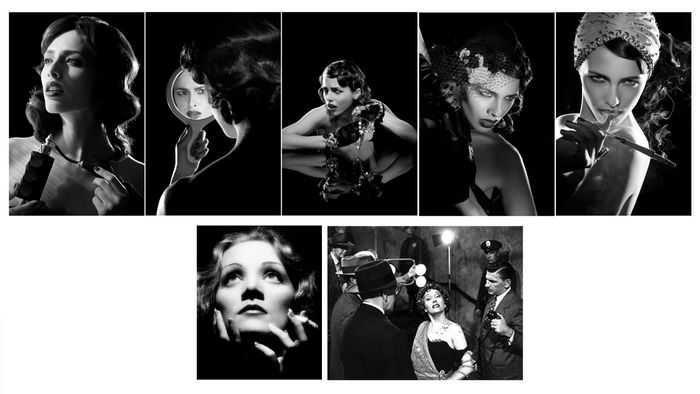 Film Noir
Nina Simone, Feeling Good!
One of my favorite jazz and blues musicians, Nina Simone's life story is as tragically beautiful as her music. "What Happened Miss Simone" was a biographical documentary I recently watched on Netflix. Her vocals and piano playing are both haunting and mesmerizing and pull on all my heartstrings. She was also the first woman to wear rhinestones on her eyebrows, so again, back to all things beauty for me. A purely magical soul.
Nina Simone for Swarovski!
I love Nina's use of Rhinestones just a little extra panache in self expression and beauty!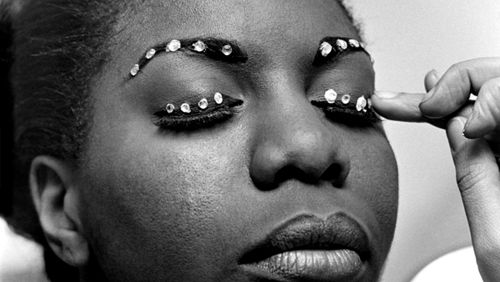 Love Story
This was my 4th beauty shoot ever with experimental, soft overhead lighting and a desaturated look in post, circa 2008. When I really started to develop and create my body of work in beauty, I was encouraged to begin thinking in terms of building visual narratives & storytelling.
Here was one of my first explorations in writing storyline accompanied by an illustrated storyboard with text.
The braid symbolizes the complexity of the relationship itself and the story begins with feelings of isolation, frustration & loneliness. Two lovers meet and one dives in to the relationship taking a part of her lover with her. The nudity is vulnerability. They fall deeply in love and find a place of divine euphoria... until it is over. The lovers part ways, yet they cannot completely separate and are still emotionally attached.

"Love Story"
Dynamic Content!
Rhinestone segue into an animated editorial in dynamic content. I can technically extend the life of a still image by using new software to isolate parts and explore various motion loops within a still image. It's a really fun and an amazing creative tool for social media engagement! Check out the surreal effect from my editorial called Glitter Bomb!
Finding Inspiration in a Polar Vortex & Extreme Weather!
I find inspiration in art, film, music, and day to day sightings. Segue from Film Noir to Hitchcock, Rear Window and Voyeurism, this next image was part of a series I created after New York City's onslaught of back to back blizzards and extreme weather. I thought it would be exciting to explore omni-directional lighting and create the feel of viewing extreme weather through a car window. We used color gels, chunky prop snow, and a water glycerin mix. The camera had a difficult time focusing, and we shot 3 editorials in 1 day and later we realized we also captured the reflection of the "Canon" logo on the camera body. Sorry no emoji here...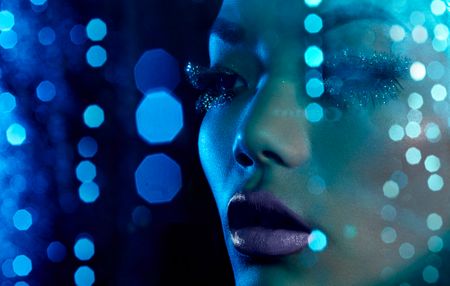 "Polar Vortex"
I Can't Stand The Rain (Against my window) Tina Turner Re-Mix
Shadows and Stripes
Inspired by photographer Solve Sundsbo and his use of bold patterned lighting, I've explored various techniques and strobes until I discovered this one. It's still one of my favorites. Bronocolor became my obsession in strobe possibilities and I've been working with their packs and modifiers ever since. I love Pro-Photo too, but Bronocolor really has this particular modifier dialed in with flawless spot and flood lighting techniques.
I'm incredibly inspired by his work and I love that my own series of striped shadowed lighting has been converted into B&W by others and reposted all over Pinterest and Instagram.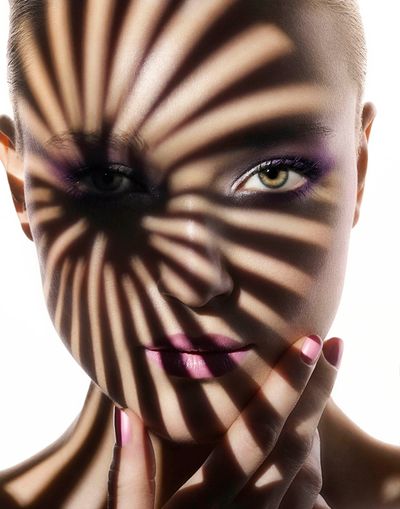 "Shadows"
Specific Electronica Song about Shadows ... Coming Soon...
Ehlan Jewels NYC
One of the oldest diamond shops in New York's Diamond District, this was a re-brand with a flair for the dramatic. The daughter of a generationally owned family owned business, hired a creative director and myself for this in store and branded web and social media project.
I love a challenge and the night before I booked the shoot, I received the creative direction. The client wanted to really highlight all of the facets of the diamonds and pearls yet keep the model in shadow. We wanted this to read "expensive." Well equipped with some very specific lighting modifiers, we created this campaign below.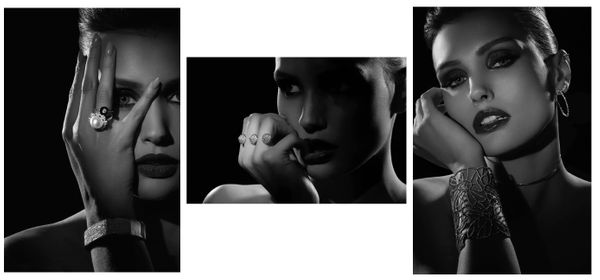 Ehlan Jewels
Oh You Pretty Things by David Bowie
Murakami
My early work...
Takashi Murakami is a contemporary Japanese artist combining elements of Pop, animé, and otaku imagery. I saw his exhibition at the Brooklyn Museum more then several years ago and came up with this idea as an homage to his artwork, translated into beauty. Our make up artist hand painted each look with precision and it was photographed before I was getting published. So this one stayed under the radar but now with this new platform of "accoutrements" I can resurrect some of my archive and share it.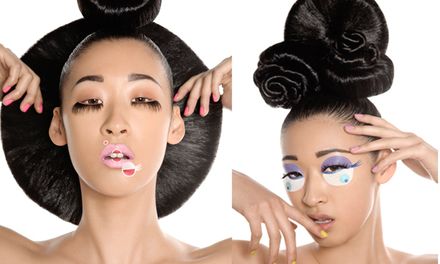 Murakami